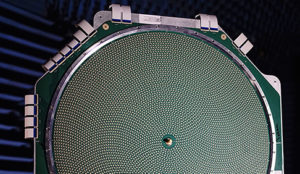 Kymeta's new technology will provide superyachts with global mobile connectivity without the need for large dome antennas. Kymeta's metamaterial-based, lightweight, flat and thin antenna design will be able to be embedded into a vessel's superstructure, allowing for a cleaner and streamlined aesthetics.
Kymeta and its partners, Panasonic, iDirect and e3 Systems created the "no dome" yacht design for the future, which is currently on display at the SuperyachtDESIGN Week.
With immersive workshops, onsite 3-D demos and a prototype antenna, visitors will have a preview on how the superyachts of the future will look like featuring the new innovative antenna. Ben Julian Toth, winner of the Young Designer of the Year in 2012, is also showcasing his concepts for no-dome at the workshop.
"Ultimately, superyacht designers and owners desire amazing designs, while at the same time having access to uninhibited global connectivity and entertainment," said Håkan Olsson, Vice President, Maritime, Kymeta. "Prototypes of Kymeta's flat panel antenna have already been successfully tested on yachts and in cars, and we are excited to expand our engagement with the superyacht industry for new builds and refits as we move towards commercial availability in 2017."
Kymeta mTenna® technology allows for scalable connection speeds with integrated, flat-panel antennas providing both internet and live TV capabilities, eliminating the need for multiple antennas.
The first maritime product by Kymeta and partners is expected to be launched in 2017.
Kymeta's new technology will also be showcased at the next edition of the Monaco Yacht Show.