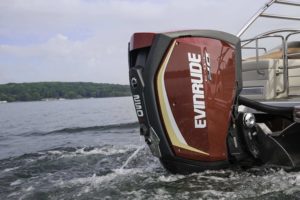 Evinrude announced the launch of a new addition to its line of color engine displays – the Nautilus 3.5-inch Color display. Designed to complement the latest in vessel helm design, the new round Nautilus display is ideal for use in smaller and modern dash configurations.
"Evinrude strives to lead the outboard industry in vessel integration, making the back of the boat, the brain of the boat. The Nautilus gauge represents the pinnacle of style, efficiency and ease of use" said Tracy Crocker, president of the BRP Marine Group.
Built with multiple display screens to fit the personal information needs of each boater and big, bold, easy to see numbers, Nautilus includes Engine and Vessel pages, mode selection, as well as a number of selectable home screens. The Engine page is designed for in-depth monitoring of the status of the Evinrude E-TEC G2 outboard, including display of vital engine messages. The Vessel page displays fluid levels, fuel management, and trip log information. With mode selection control, Nautilus provides the ability to adjust power steering feel, trim assist, and for concealed side mount controls, switching between hand and foot throttle operation. Users can also choose from three home pages to view general cruising and performance information including: RPM, trim level, engine water pressure with an optional water pressure sensor kit, fuel economy, fuel consumption and boat speed. Nautilus can be completely personalized with English, French, Spanish and German language capability, as well as selectable imperial, metric and nautical units of measure.
About Evinrude
Evinrude, part of the BRP Marine Group, is a global manufacturer of outboard marine engines. The company developed the first commercially viable outboard engine in 1909. Celebrating 110 years of innovation in 2019, Evinrude's engine line up, from 3.5 to 300 HP, offers a full range of applications and meets all global emissions standards. Engines are available at authorized Evinrude dealerships worldwide. For more information visit www.evinrude.com.